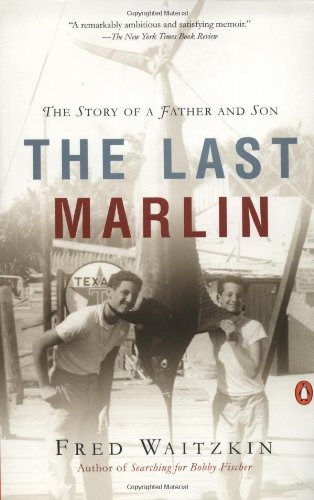 By FRED WAITZKIN
The Last Marlin
Memoir
"As a boy, I was confused that fishing was a source of tension in our home. I believed that if we kept trolling plentiful waters, Mom and Dad would get along while we made great catches, and our family would prosper and endure." ​ So writes Fred Waitzkin in the opening pages of The Last Marlin, an unforgettable memoir of growing up in the fifties.
Synopsis
"The Last Marlin is a family tragedy," Fred Waitzkin reflects nearly twenty years after writing his memoir. "It is the tragedy of my family. I didn't realize this before writing the book. In fact, if you'd asked me before I'd time travelled back a half century to re-witness Abe and Stella exchanging their Virginia Wolf deceits and cruelties, I would have said my childhood was fairly normal…. It surely was normal for me."
Young Fred is a Jewish boy in the fifties stretched between the divergent values of parents who cannot tolerate one another. Fred's father, Abe, is a brilliantly talented salesman whose relentless will drives him to succeed, whatever the cost. He marries Stella, an abstract artist, a student of De Kooning and Hans Hofmann, but also the daughter of a wealthy industrialist with whom Abe forges an alliance. When the marriage founders, Fred's world is assaulted by his mother's need to realize herself as an artist and by his father's need for revenge. In order to keep head above water while family and fortunes go down around him, Fred fishes.
In scenes that range from Long Island synagogues to smoky nights with legendary abstract painters to the boats of drug smugglers on Bimini and the marlin rich waters of the Gulf Stream, Fred sinks boats and battles thousand-pound marlin, believing that fishing is the answer to all problems.
"Sometimes I think when you pull back the covers, every life is a tragedy," says Fred."
"A graceful father-son memoir that artfully braids rich disparate strands: Atlantic game fishing, the New York wholesale hustle, dysfunctional Jewish clannishness, and the decline of pelagic life."
"When Fred Waitzkin was younger, he thought he had it in him to be a great writer. He was right. This memoir of growing up is passionate, often very funny, very tender, and thoroughly engrossing."
"I am reminded once again, having loved Searching for Bobby Fischer, how terrifically gifted a writer Fred Waitzkin is. His new book is both deeply moving and joyous, both dark and celebratory."
"A remarkably ambitious and satisfying memoir."
– THE NEW YORK TIMES BOOK REVIEW