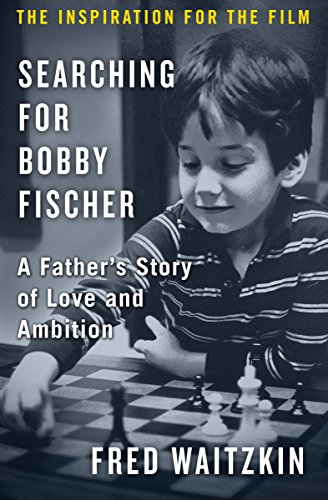 By FRED WAITZKIN
Searching for Bobby Fischer
Memoir
The author, a freelance journalist and chess buff, recounts three years in his chess champion son's life, chronicling Josh's play, their travels and tournaments, Josh's first national championship, and the impact on their relationship.
This book was the inspiration for the iconic film of the same name.
Synopsis
Along with millions of other Americans, Fred Waitzkin was smitten by chess during the historic Fischer-Spassky championship match in 1972. Inspired by Bobby Fischer's charisma, Waitzkin began to study the game, but quickly gave it up when he discovered that he had little talent for chess. His interest was revived a decade later when his young son began coaxing him to play and, to the author's astonishment, within weeks Josh was beating him.
This is the story of three years in the lives of father and son, from the moment when Josh first sits at a board at the age of six until he wins the National Primary Championship three years later. Though parenting a prodigy has its rewards, the author realizes, not altogether happily, that his greatest pleasure—indeed, even his purpose in life has become inextricably entwined with his son's success at this cerebral game, and that the needs of a little player may conflict with those of the child. As Josh strives to become a better player, father and son are drawn into an insular, international network of eccentric people who frequently live tragic lives, having given up everything for chess. We meet brilliant down-and-out-men whose wins and losses determine whether they eat at night or go hungry, who sleep on a park bench, barely surviving, yet pridefully scorning conventional life choices for the euphoria of playing chess.
Father and son travel to Russia to watch the first Karpov-Kasparov world championship match but find themselves in serious trouble with the KGB after Fred interviews a Jewish champion, Boris Gulko, who has been held under house arrest because he wishes to emigrate.
Searching for Bobby Fischer is also the story of Fischer himself, the greatest player who ever lived, who mysteriously gave up the world championship and millions of dollars to live the life of an impoverished loner, but whose aura and mythology still dominate the world of chess.
Above all, this engaging book is as much about fathers and sons as it is about the chess world. In these pages, Mr. Waitzkin is candid about the pressures he and his son feel while Josh works to become a champion. Within a few pages, readers find themselves passionately involved not just with an endearing young man and his father, but with all the inhabitants of this obsessed world.
Five years after the publication of Fred Waitzkin's internationally acclaimed bestseller, Paramount Pictures released the movie version of Searching for Bobby Fischer, which was nominated for an academy award. Today it is on many lists as one of the best sports movies ever made and has become a cult classic.
"A little gem of a book… Waitzkin stokes a fire in the basement of this book that will end up making us sweat and squirm."
"Bursting with human interest."
"Waitzkin's descriptions of the chess world are fascinating."
"Fascinating…a wonderful memoir."
"I've rarely been so captivated by a book."