"Deep Water Blues churns with the beauty, desperation, violence, and yearning of those fighting to survive on a speck of land in an eternal sea." – Josh Waitzkin
"This is like sitting by a fire with a master storyteller whose true power is in the realm of imagination and magic. " – Gabriel Byrne
"Loved this book.  I could not put it down."  – Mark Messier, hockey legend.
"Fred Waitzkin writes about life, sex and violence with aplomb, and Bobby Little is a tragic hero fit for the Greek myths." – Matt Gallagher, author of Youngblood
"Deep Water Blues has the ease and compelling charm of a yarn spun late in the evening, the sun gone down and the shadows gathering in."
– Colin Barret, author of Youngskins
"Deep Water Blues has been honed and polished so all the facets shine; characters, dialogue, description, plot and development. This is Waitzkin's best book to date. "
– Jack Shea, Martha's Vineyard Times
"Mr. Waitzkin imbues all this 'hope and tragedy resting a few feet above sea level' with a texture most authors would need three times as much space to achieve."
– Steve Donoghue, Vineyard Gazette
"Delightful … an enchanting yet haunting story recommended for fans who appreciate plot twists where good triumphs over evil."
– SA Examiner
"Like stories of the sea that come before, Deep Water Blues portrays the fear and allure of the ocean's massive force."
– Angler's Journal
INSPIRED BY A TRUE STORY: A BAHAMIAN ISLAND BECOMES A BATTLEGROUND FOR A SAVAGE PRIVATE WAR.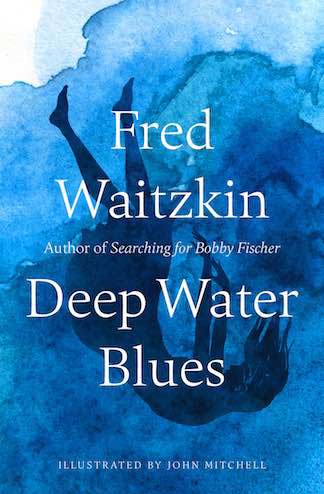 Charismatic expat Bobby Little built his own funky version of paradise on the remote island of Rum Cay in the southern Bahamas, a place where ambitious sport fishermen docked their yachts for fine French cuisine and crowded the bar to boast of big blue marlin catches while Bobby refilled their cognac on the house.  Larger than life, Bobby was really the main attraction–a visionary entrepreneur, expert archer, reef surfer, bush pilot, master chef, seductive conversationalist.
But, after tragedy shatters the tranquility of Bobby's marina, tourists stop visiting, and shimmering jealousies flare among island residents.  When a cruel, different kind of self-made entrepreneur challenges Bobby for control of the docks, all hell breaks loose.  As the cobalt blue Bahamian waters run red with blood, the man who made Rum Cay his home will be lucky if he gets off the island alive. . . .
When the Ebb Tide cruises four hundred miles southeast from Fort Lauderdale to Rum Cay, its captain finds the Bahamian island he so fondly remembers drastically altered.  Shoal covers the marina entrance, the beaches are deserted, and onshore there is a small cemetery with headstones overturned and bones sticking up through the sand.  What happened to Bobby's paradise?
"Since I was a child, the desolate out islands of the Bahamas have been a home, none more dear than the shark-infested, storm-ravaged, cursed utopia of Rum Cay. . . . Deep Water Blues churns with the beauty, desperation, violence, and yearning of those fighting to survive on a speck of land in an eternal sea. As a reader, I am on fire. As a son, I could not be more proud."